AI-based printing pattern technologies encompass various approaches and applications within the printing ,fashion and textile industries. Ai powered printing pattern technologies can be defined as generative ai or gen-ai.
What is Myth.Ai? Is Myth.Ai a fashion-tech company?
Myth is a technology that uses AI to create printing patterns. It's known as gen-ai or generative AI, and it's a tool that's specifically designed for creating printing patterns and designs. Unlike other pattern generators, Myth is unique because it allows for legal ownership of designs and is easy to use. Additionally, it's an end-to-end design tool that doesn't require any changes to Adobe Photoshop or Illustrator after generating designs. Myth is also user-friendly, requiring no basic skills for designing new printing patterns. All patterns created by Myth have the highest quality in terms of resolution and seamlessness. Furthermore, it enables all report formats, including block, half-drop, brick, placement print, and other features.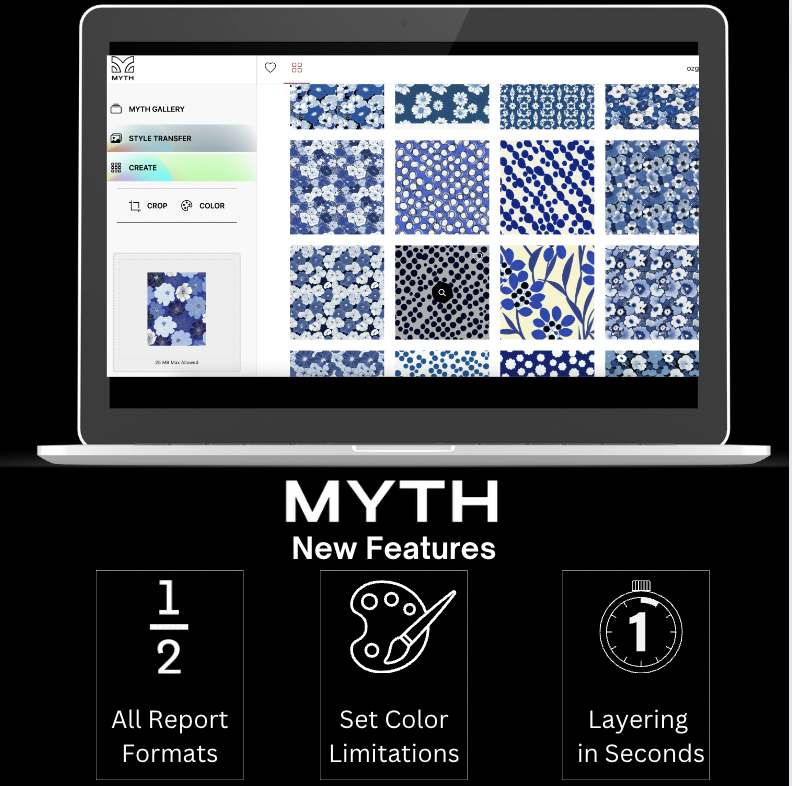 Myth is a design assistant that can inspire you, even if you don't have a design education or senior level experience. With Myth.Ai, you can browse Myth.Galerie, which is updated daily with printing patterns generated by AI technology in categories such as floral, animal, ethnic, geometric, paisley, and abstract patterns. These patterns are in line with seasonal trends. Additionally, Myth.Ai can generate a printing design for you in seconds based on your uploaded image or prompt. With just a few clicks, you can design your printing pattern quickly and easily.
What features are available in Myth.Ai?
Pattern Generation: AI can generate intricate and unique patterns for textiles, wallpapers, packaging, and more. These patterns can be customized based on user preferences, making it easier to create personalized designs.
Color Edit and Change: AI can assist in color selection and matching, ensuring accurate reproduction of desired colors in printed materials.
Quality Control: AI-driven computer vision systems can inspect printed patterns for defects, ensuring consistent quality in mass production.
Textile Design: AI can aid in textile design by generating patterns, textures, and motifs for fabrics, which can be used in fashion, interior design, and other textile-related industries.
Fashion Design: AI can help fashion designers generate clothing patterns, suggest color combinations, and even predict fashion trends based on market data and historical trends.
Pattern Recognition: AI algorithms can recognize and identify existing patterns or logos, making it easier to reproduce and modify patterns for various purposes.
Digital Printing: AI-powered digital printers can adjust printing parameters in real-time to optimize print quality, speed, and efficiency.
3D Printing: AI can be integrated into 3D printing processes to control pattern creation and ensure precise layering and detailing.
Personalization: AI enables mass customization by generating unique patterns for individual customers, allowing businesses to offer personalized products.
Sustainability and Carbon Footprint: AI can help optimize material usage in printing processes, reducing waste and production costs.
Augmented Reality (AR) Printing: AI can enhance printed materials with AR elements, allowing users to interact with printed patterns through mobile apps or wearable devices.
Design Assistance: AI-based tools can assist graphic designers and artists in creating and refining patterns, speeding up the design process.
What is the Myth's difference from other OpenAi technologies?
Various industries are using evolving technologies such as OpenAi, Midjourney, Adobe Firefly, Microsoft Designer and Pattern AI to improve pattern design, printing quality, and efficiency. These technologies are contributing to more creative and efficient production processes, as well as offering opportunities for customization and personalization.
Myth.Ai is not an OpenAI. It means that all datasets used for machine learning are carefully selected, verified for quality, and include printing patterns that meet industry expectations.
OpenAI's pattern recognition technology, like other AI systems, can face common problems and challenges.
Bias: AI systems can inherit and sometimes amplify biases present in the training data, leading to biased or discriminatory pattern designs.
Lack of Creativity: AI-generated patterns may lack the creativity and artistic nuance that human designers can provide.
Overfitting: AI models may generate patterns that closely resemble the training data but lack diversity and originality.
Copyright and Plagiarism: There can be concerns regarding copyright and intellectual property when AI generates patterns that are too similar to existing designs.
User Interface and Ease of Use: The user interface for interacting with AI pattern design tools may not always be intuitive, hindering widespread adoption.
Ethical Considerations: Questions about the ethical use of AI-generated patterns and the impact on traditional design industries can arise.
Limited Domain Knowledge: AI may not have domain-specific knowledge, leading to patterns that do not align with industry trends or preferences.
Data Privacy: Handling and storing large datasets for training AI models can raise privacy and security concerns.
Quality Control: Ensuring the quality and consistency of AI-generated patterns may require human oversight and post-processing.
Accessibility: The availability and affordability of AI pattern design technologies may limit access